MOBILIZE YOUR COMPANY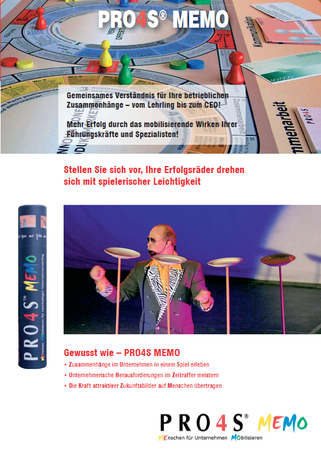 Turn your employees into partners!
Entrepreneurial thinking and acting can be systematically promoted in companies.
Experience something new and get to know people from a different perspective. Plus, learn to use an effective motivational tool in a quick and easy way.
> You can do this right now with a new mobile, interactive management app!
The PRO4S MEMO company simulation trainer mobilizes people, while making entrepreneurial thinking and action tangible, stimulating the exchange of ideas and fostering teamwork. It also encourages your employees to become motivated and responsible partners, which, in turn, boosts your service and quality levels in a tangible and measurable way!
Following an introduction to the underlying business concepts and the structure of the game, you get to experience entrepreneurial thinking and action first-hand and to exchange knowledge and experiences. Teams of two sit at tables to roll dice, play and discuss goals, business transactions, problems and, above all, solutions. You'll quickly recognize errors and areas for potential improvement in your own company, as well as other possible ways in which the game can be used by you, your customers and your suppliers.
What are the benefits for your company?
More entrepreneurial thinking and action by managers and employees enhances your service quality and customer focus
A clearer understanding of team and company goals and the ability to achieve these in less time under your own steam will generate more revenue
Enhanced motivation, management, teamwork and communication mean more efficient and effective workflows and processes = better results and higher margins
The creation of a shared language and common philosophy among trainees, employees, teams, managers, all the way up to the board of directors/board of management and customers for greater mutual understanding and transparency
What makes the playful approach so effective?
Playing together is the most natural way for people to learn to really understand each other
A game simplifies complex connections, visualizes content and gives structures to your goals. Questions are answered immediately and in person
It creates opportunities for lively and informative interaction between managers, employees and customers or suppliers
Why not see and hear what others have to say about playing the PRO4S MEMO company game?
Motivate and mobilize your company, your employees, your customers and your suppliers in a brand new way!
Would you like to find out more? We look forward to receiving your inquiry!
For more information, click here.